Will other couples be getting married with me?
---
While there will be other couples getting married on the same day as you, each wedding is completely private to you and your guests. This allows us to keep costs low, with savings that we pass on to you.
---
What are the food and beverage options?
---
Food and beverages are provided by a licensed caterer. It is a cocktail style reception. Refreshments vary per event, however a lot of styling and thought goes into each decision and the results are always delicious. Check out specific pop-up dates & locations to learn more details about particular pop-ups. If you have specific dietary requirements, let us know and we will do our best to accommodate you.
---
Can I bring in my own officiant, photographer, favors, or décor?
---
You are welcome to use your own officiant. Photographers & videographers must be approved by Just Say I Do. Favors and special décor items need to be approved prior to the wedding date. All outside floral, food & beverage is not permitted.
---
What is a pop-up wedding?
---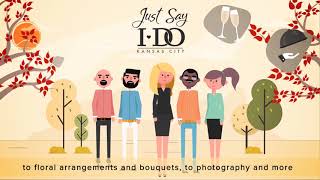 ---
When will you release new dates?
---
The best way to stay up-to-date is to subscribe to our emails - CLICK SUBSCRIBE at the top of this page. We always send out a release when a new date or location is added.
---
What is a wedding webpage?
---
A private web page specific to your wedding! Guests will be able to get wedding information, RSVP online, find registry information, view pictures after the wedding, and more! CLICK HERE
---
---